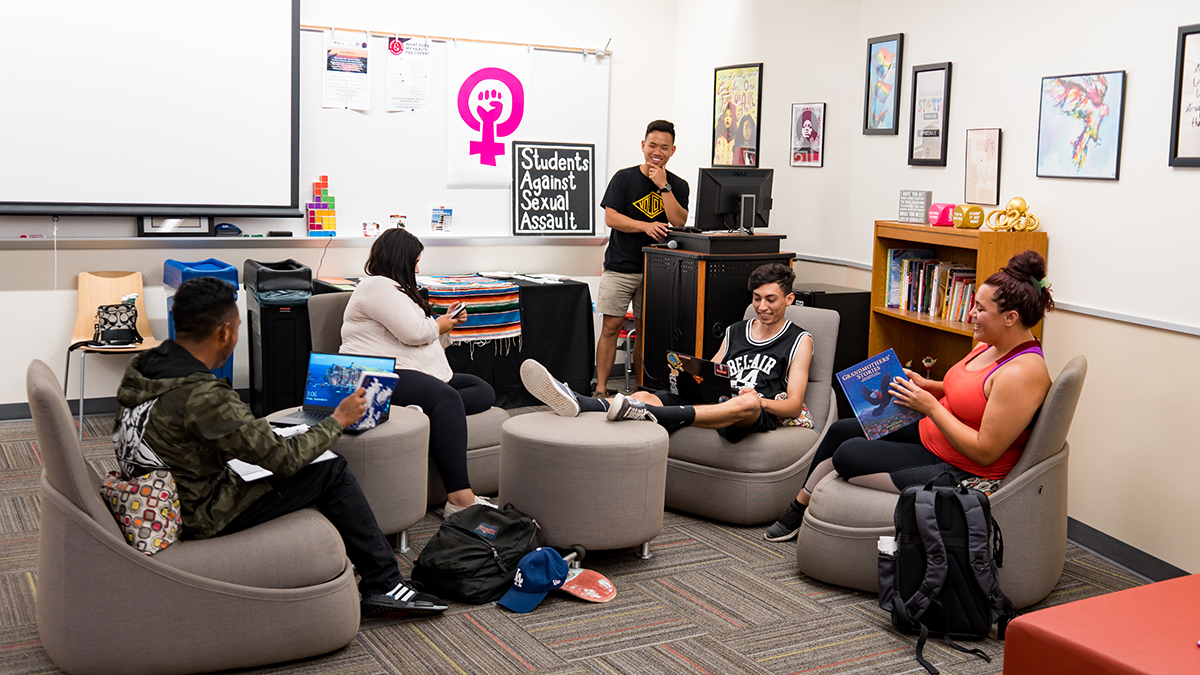 Center for Equity and Social Justice
The Center for Equity & Social Justice (CESJ) strives to provide a safe and brave space for students of color, women, LGBT+, and other marginalized students on our campus.
Our Mission:
Every individual holds various identities that shape who they are and how they experience the world. We have created a space to support and facilitate the exploration of the intersections that unify and divide us. The CESJ partners with various academic departments, student support programs, and community service agencies to provide lectures, workshops, discussions, film screenings, spoken word, and art exhibits that explore issues of culture, belonging, power, oppression, and injustice in our community.
Our Goals:
We strive to be a space that informs the SBCC campus and greater community on issues of identity, belonging, equity, diversity and social justice

We strive to enhance the cultural and educational experience of students by providing a safe and welcoming environment for student to engage in community building and connection.

We strive to amplify the voices of marginalized communities through education and collaboration.

We strive to confront and explore issues that divide us such racism, classism, ethnocentrism, ableism, ageism, sexism, and heterosexism

We strive to create an environment that values each member of our community.
The CESJ is located in CC-228 on East Campus (next to the cafeteria)
The CESJ is open to students Monday, Tuesday, and Thursday from 9-4 and Wednesday 9-6. The Center can be reserved for use by departments and campus clubs on Fridays.
CESJ STAFF:
Roxane Maiko Byrne, PhD. Coordinator of Equity, Diversity and Cultural Competency
(p) (805) 730-4199
rmbyrne@sbcc.edu
CESJ Student Program Advisor-TBA The CESJ Student Program Advisor (SPA)coordinates the daily operations of the Center for Equity and Social Justice. The SPA is responsible for developing and coordinating a calendar of educational events and workshops, supervising student staff, and supporting student affinity clubs.
For more info follow us on instagram @sbcc_cesj or email rmbyrne@sbcc.edu
<
Location and Contact Information:

Campus Center Room 228 (next to the main cafeteria on East Campus)
(805) 730-4377