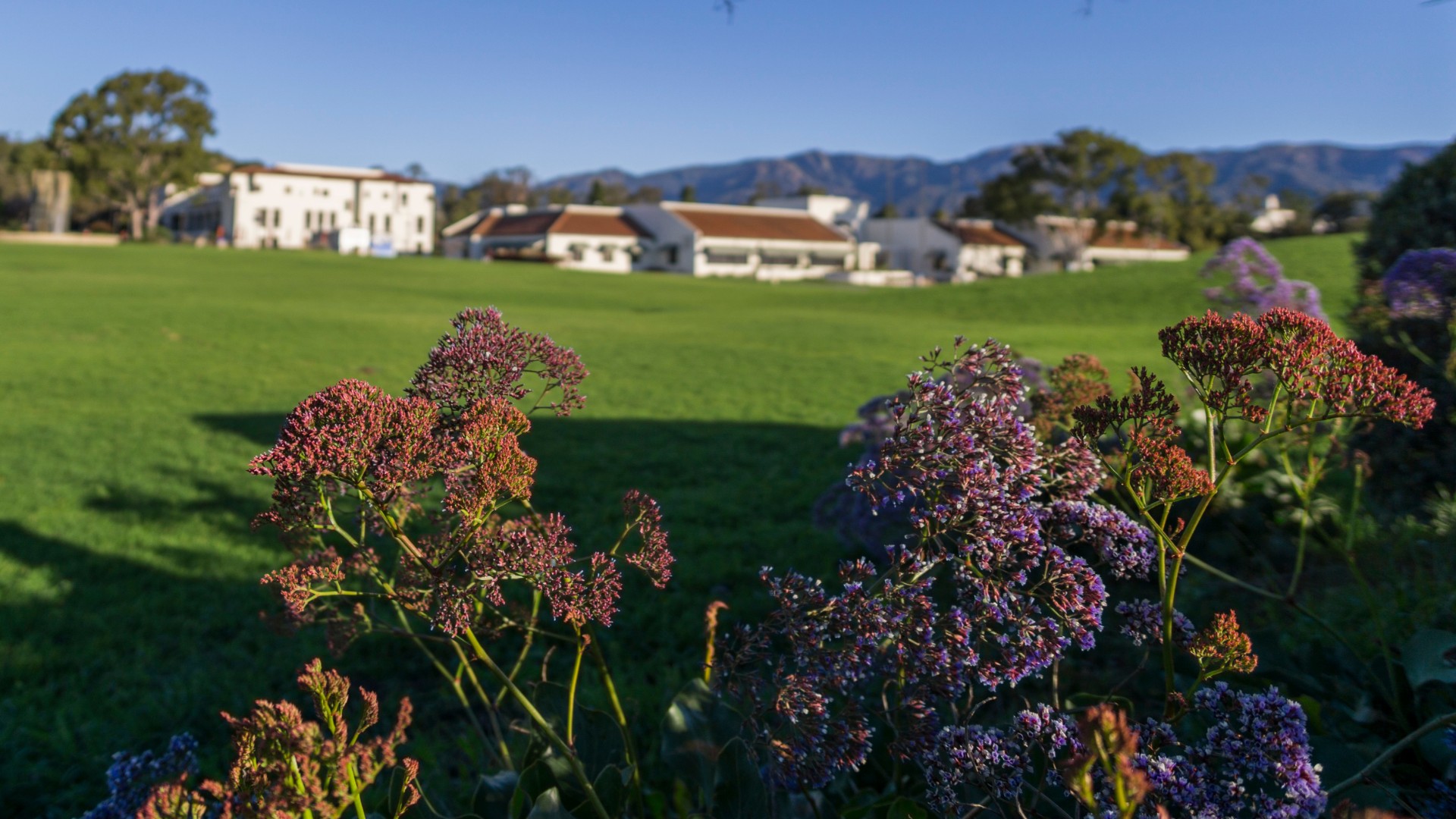 SBCC Sustainability
About
SBCC is committed to creating a healthy environment through a holistic and integrated approach to implementing sustainability projects. With a proven history of academic excellence, SBCC is committed to enhancing student health and experience, while encouraging a District transition towards sustainability and resiliency.
SBCC's District Sustainability Plan is the Districts vision for what sustainability means to our campus, our people, and our future. The Plan was created with campus and community input and includes goals and strategies to reduce consumption of natural resources and provide the SBCC community with a healthier and more sustainable campus environment.
SBCC District Sustainability Plan
Get Involved


Sustainability Workgroup and Task Forces
SBCC Student Sustainability Coalition
The success of sustainability at SBCC depends on everyone. Here is a diagram to illustrate some of the groups that work together to achieve sustainability goals.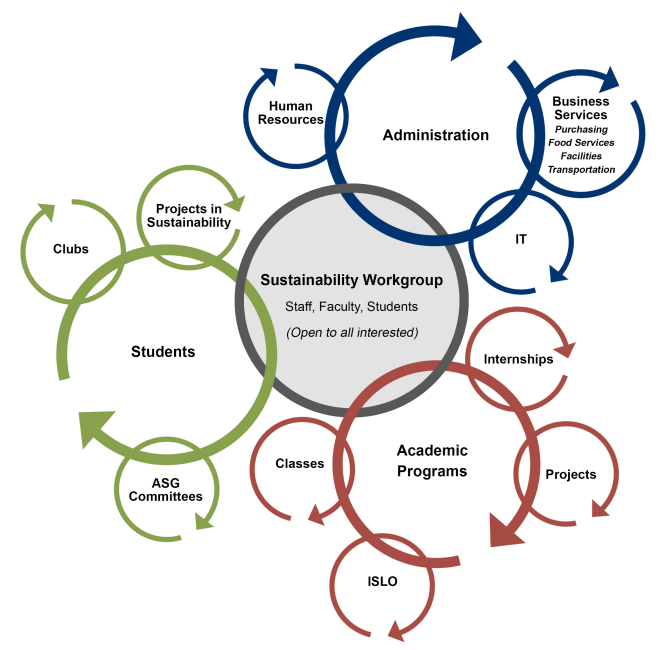 Achievements and Awards to Date
SBCC's Sustainability efforts have received notarity including:
2018 California Higher Education Sustainability Conference: Sustainable Transportation Award
2017 Green Building Council: Green Innovation and Green Community Partner Award
2016 Green California Schools and Community Colleges: Leadership Award for Student Engagement
Since approval of the 2014 & 2018 SBCC's District Sustainability Plan, there has significant progress on goals and achievements.
SBCC's vision for improved waste management practices is to reduce generated waste District-wide and provide education on the importance of reducing, recycling, and reusing.

SBCC in Action! Our Achievements to Date

In Fall 2018, SBCC will activate a task force comprised of students, staff, faculty, City Recycling staff, and MarBorg Industries in order to make changes to current waste management practices and ensure a reduction of campus waste and higher landfill waste diversion rate.

SBCC will be looking into new waste and recycling bins as well as reducing the quantity of bins of campus in support of overall waste reduction goals.
LOCATE A BIN NEAR YOU

Identify what materials can be recycled
VIEW MATERIALS

Develop a Purchasing and Waste Management Policy
VIEW OUR POLICY

SBCC's vision for energy efficiency is to create and maintain better performing buildings through metering, measurement, and innovation.

SBCC in Action! Our Achievements to Date

| | |
| --- | --- |
| | West Campus has installed a 200 kW Photovoltaic array (1,344 panels). |
| | SBCC has retrofitted exterior and interior lighting to LED technology, saving the campus 696,000 kWh annually. |
| | SBCC is working to install building level metering to continue to manage and improve building operations. |
| | SBCC installed a highly reflective roof coating on the Campus Store, LRC, BC (approximately 50,000 SF). |
| | The West Campus Center earned LEED for New Construction Platinum certification in spring 2018. |

SBCC's vision for water efficiency is to reduce the use of potable water District-wide and provide education on the importance of saving water in indoor and outdoor applications.

SBCC In Action! Our Achievements to Date

Follow EPA Water Sense Standards

| | | |
| --- | --- | --- |
| Fixtures | Baseline Rates | High Efficiency Recommendations |
| Commercial Toilets | 1.6 GPF | 1.28 GPF |
| Commercial Urinals | 1.0 GPF | 0.128 GPF or non-water |
| Commercial Lavatory Faucets | 0.5 GPM | 0.4 GPM |
| Showerheads | 2.5 GPM | 2.0 GPM |

Conduct Water Wise Survey to identify areas of savings
READ THE SURVEY

Implement East Campus Water Conservation Projects
SEE THE RESULTS


SBCC is the 2014 City of Santa Barbara Water Hero!

Read more here

SBCC's vision for sustainable food is to utilize loal, organic food sources, create menu options for all food preferences, and educate the District about how to prepare more sustainable food.

SBCC in Action! Our Achievements to Date



| | |
| --- | --- |
| | Food Services is working on expanding menu options to provide more vegetarian and vegan meals. |
| | SBCC has started a Food Pantry for campus stakeholders to receive food. |
| | SBCC has expanded its permaculture garden around campus. |

SBCC's vision for landscape is to install drought tolerant species, ensure landscaped area meets student needs, and reduce the use of potable water through the use of high efficient irrigation systems.

SBCC In Action! Our Achievements to Date



IRRIGATION SYSTEMS

The campus' irrigation specialist maintains irrigation systems for maximum efficiency. Demonstrations of water-wise landscapes have been implemented near the campus gym on Loma Alta, on the Northeast side of Campus Center and turf has been replaced outside of the international center.

PERMACULTURE GARDEN

The Permaculture Garden, located on the West Campus, is a mix of perennial and annual plant species. The garden takes advantage of all usable space and replicates natural systems, which reduces the use of pesticides, fertilizers, and wedding.

Students secured grant funds to install the garden, which replaced 1 acre of turf grass. Students and SBCC Facilities have worked together to implement the Garden and are strategizing the integration of plants that produce edible food.

FERTILIZATION

SBCC does uses broad-spectrum fertilizers such as azamite, crushed volcanic rock, and relies on replenishing the soil with compost.

The campus has implemented a comprehensive Integrated Pest Management (IPM) plan to safely and effectively respond to any undesired pest infestation.

CAMPUS LANDSCAPE

The campus plant palette focuses on low-water use plants that are easy to propagate. The campus goal is to create an ecologlocical landscape where each species works together resulting in a healthy landscape bed and an enjoyable space.

This idea of an ecological landscape has already emerged. Several large hives of bees have chosen the campus for their home and are responsible for pollinating everything within a quarter mile radius.

The entire campus has a great population of beneficial insects to keep soil and plant health thriving. There is also a decent hawk population to assist with campus rodent issues (which plays a role in safe IPM strategies).